We Now Offer Our Boat , Auto , RV and Motorcycle Detailing service In Orange County .
Keep It Klean .is a complete mobile detail shop on wheels, servicing Orange county cities such as Lake Forest, Irvine, Tustin, Newport Beach, Laguna Beach, Costa Mesa, Rancho Santa Margarita, Mission Viejo, Huntington Beach,
Seal Beach and Santa Ana .
We offer New Car Protection Gift Certificates , RV Detailing , Motorcycle Detailing ,Auto Detailing ,Paint Over Spray Removal , Boat Detailing ,Vinyl lettering Removal, and Graffiti Removal
Our trucks are equipped with a filtrated water system that allows us to wash the exterior of your vehicle with de-ionized water*, to avoid water spots, electricity and the tools necessary to provide over 20 custom cleaning services , Have any questions about your vehicle? Chances are we have an answer and the solution. give us a call 310-412-2277

Please click below links for rates
Did you Know : According to the International Car Wash Association (ICA), regular professional washing and waxing will help maintain your car's appearance as well as retain the value of your car.
"Most car owners understand the value of changing motor oil regularly to protect the engine,"
"but if you forget and instead choose to replace the engine, the car could still be as good as new. However, a car with oxidized paint and a rusted-out body can never be economically restored. The best prevention is regular waxing by a professional auto Detailer."
Why should you have your car detailed?
Most paints used by auto manufacturers are at their maximum gloss the day they are painted. Acrylic and clear coat paints begin to lose their shine as you roll away from the dealership. Detailing restores the sparkle and shine, so that your vehicle can look brand new. Any car that is over a year old will look significantly better after detailing. Even a car less than a year old will shine brighter, and retain that shine, after it has been detailed. The average price of a car today is over $20,000. You can enhance the value and the joy of driving your car by getting it detailed.
How often should your car be detailed?
Experts recommend having your car protected and reconditioned at least 2 times per year. This prevents the surface finish form deteriorating. Vehicles that are not garaged may require more frequent service. Factors such as how frequently the car is washed and road conditions (including tar, and salt used for ice and snow removal) all have an impact on the finish of your car. We also have express maintenance services that can be completed in 20 minutes to help maintain a finish that was recently rejuvenated and protected.
SATISFACTION GUARANTEED!!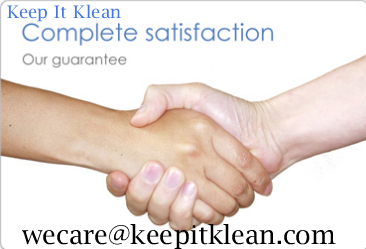 We are very serious about customer satisfaction.
If for any reason you are not satisfied with the service provided, we will come by at your convenience and fix whatever is wrong free of charge.
Have an idea for a great Recession Booster special? Let us know and we will make it happen!..email information@keepitklean.com

Promotions /

Coupons

Interior car clean with Ozone treatment

$110.00

Winter is here and it's time to help your car get in shape for the cold weather.

Add $15.00 for suv

*Have any 2 cars, regardless of size, be Fully Detailed for $365

Buy a Complete Detail. Get a $20.00 Gift Certificate to give to a friend or Family member. Via e-mail

Recession Booster Special Idea Thanks to

Mary G

Santa Monica California

Recession Booster Special Idea Thanks to
Please note: Every effort is made to ensure accuracy with our prices and services however prices and service areas are subject to change without notice and may not be immediately reflected on the website. Please contact our office for the most accurate and up-to-date information.
We look forward to doing business with you in the future, no matter how small or large your restoration needs maybe
Contact us by e-mail at Information@keepitklean.com or call us direct at 310-412-CARS to arrange an appointment to come to your home or office
Major credit cards accepted
•

Fully Insured

•

Fully Equipped
Member of the

We use SMARTWAX Advanced Professional Car Care products [Also used by Audi, Lexus & other premier local dealerships]

Auto Detailing Service & Car Care Products ,Microfiber towels sales
Cars • Trucks • Vans • RV's • Suvs •Fleet Cars• Boats & Motorcycle
Odor Removal • Lavado de Carros • Vinyl Lettering Removal
PO BOX 451785 Los Angeles C.A 90045
Tel # 310-412-CARS - Fax 206-201-7823
E-Mail Information@keepitklean.com
Se Habla Espanol Los Angeles Ca 90045
Orange County Boat , Car , RV Detailing ,including Lake Forest, Irvine, Tustin, Newport Beach, Laguna Beach, Costa Mesa, Rancho Santa Margarita, Mission Viejo,
Huntington Beach, and Seal Beach
mobile car detailing, truck detailing, RV detailing, boat detailing, truck detailing, motorcycle detailing, mobile bus detailing, Auto detailing at home, car detailing at office,